CYLANCE
Artificial Intelligence-Based Advanced Threat Prevention
Artificial Intelligence End Point Protection & End Point Detection & Respond
PERITECH is the MANAGED SERVICE PROVIDER for CYLANCE in Malaysia. CYLANCE is an American software firm founded in 2012, and has been developing antivirus programs and other kinds of computer software that prevent, rather than reactively detect, viruses and malware. Since 2016, Cylance has been rated as a Visionary in GARTNER's Endpoint Protection category.
Cylance Protect, the company's flagship product for end point protection, has been proven time and again in its capability to detect malware for up to 33 months before the malware is even written. By using a 33 month old version with no upgrades and updates, Cylance has been proven to still be able to detect the latest malware. 
This ability to detect Zero Day Attacks in its extremely lightweight agent provides an overwhelming reason for the world to start implementing Artificial Intelligence solutions like Cylance.
Cylance has also been recognized by many other security solutions such as Watchguard, Bitglass and A10 where they have integrated with Cylance in their solution offerings.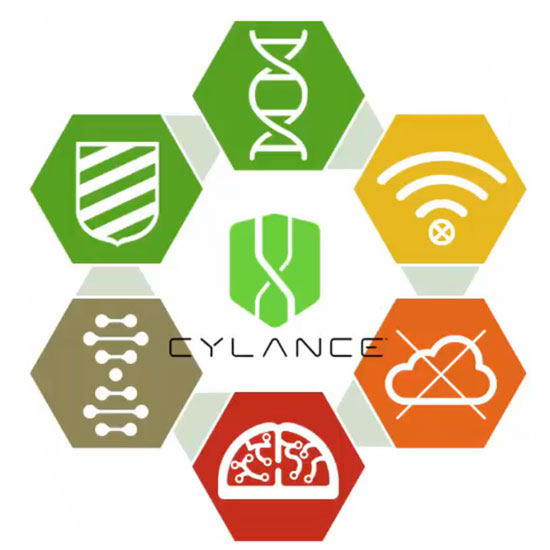 CYLANCE offers Solutions:
CYLANCE Protect
CYLANCE Protect + ThreatZero
CYLANCE Optics
CYLANCEV

Intelligent Threat Prevention
The first antivirus to use Artificial Intelligence to protect against never-before-seen threats.

We Do Not Slow You Down
Traditional AV drains processing power and battery life, and bombards you with pesky pop-ups and system-slowing scans. We don't.
True Peace of Mind
Cylance doesn't need constant updates to protect against new threats. Our artificial intelligence engine identifies & stops new threats proactively.

Save Up from Cyber Attacks
90% Cyber Attacks are from Malwares. With Cylance, companies and governments stand a far better chance in defending against potential Cyber Attacks